Description
Description:
This is DS18B20 digital temperature sensor module for Arduino -55°C~125°C
Digital signal output
Detect ambient air temperature
Compatible with Arduino DIY project
Main chip: 18B20 temperature sensor
Material: PCB
NOTES
The DS18B20 and ordinary transistors look similiar, so be careful not to regard it as a generalPass transistor to avoid damage.
in order to prevent damage to the DS18B20 ensure that the powerLine and ground are not reversed.
the relevant technical data on the bus did not mention a single number that can be linked to how much DS18B20, But in practical applications are not as many, and we should pay attention to.
There is a bus length limitation that should be taken in consideration when long-distance communications, consider bus distributed capacitance and resistance.
Identify DS18B20 Temperature Sensor Module power line, ground, and data Line, power line and ground points connect to the Arduino test board +5 V, GND, Data bus connect to the digital port.
Specification:
Resolution adjustment range :9-12
With mounting holes for easy installation, Aperture: 2.5
Temperature measuring range: -55 ~ +125 ℃
Temperature measurement accuracy: 0.5 ℃
Working voltage: DC 5V
Size: 28mm x 12mm x 10mm
Example
Connection of DS18B20 Temperature Module with arduino
The connection scheme is very easier. We have only three pins to connect. Connect the temperature module to the Arduino as shown in the figure.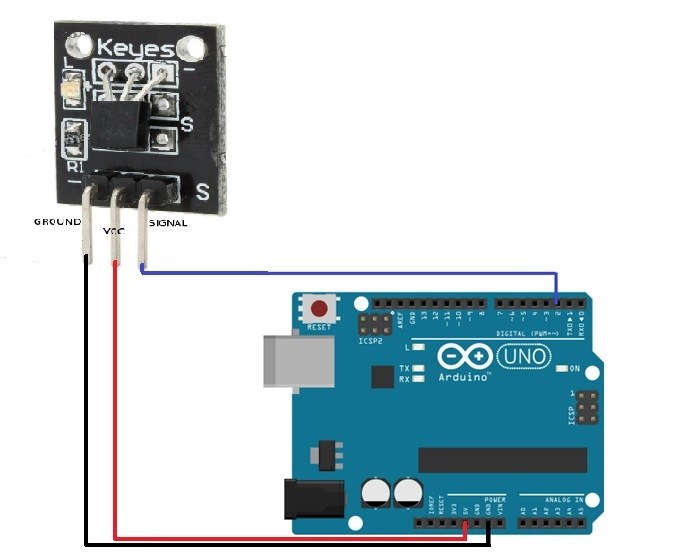 CODE
You'll need to install the OneWire Library and DallasTemperature Library.